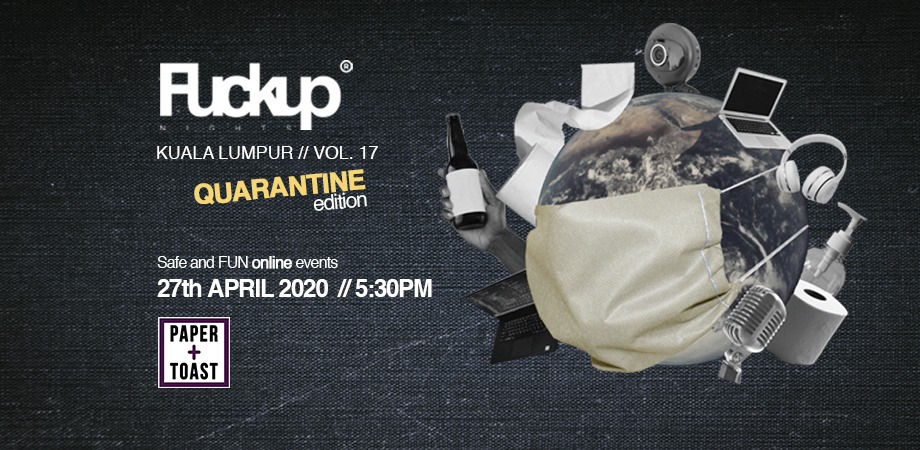 Share The Failure and Build Resilience with Fuckup Nights KL: Quarantine Edition
Failing business and start to build resilience in your business, how? It's about time that we start to embrace failures as much as we do for our successes. Fuckup Nights is a global movement of celebrating business failures and believing in living without filters. It boils down to how one picks up from these failures by building resilience in their businesses. Fuckup Nights: Quarantine Edition allows us to keep the sharing online!
Here at PAPER + TOAST, we host Fuckup Nights Kuala Lumpur believing in the change of the social stigma towards failure. A platform where everyone is allowed to fail and still be in support towards one and another. This time around, we held our very first online Fuckup Nights Kuala Lumpur: Quarantine Edition with the ongoing Movement Control Order as we all are staying home.
It is predominantly a crucial time for many businesses and entrepreneurs with the happening of COVID-19. We took this opportunity to gather speakers to share their stories and how it is still possible to rise even through tough times.
We only had 3 months of cash flow left
Ethan Lim, country manager for TheLorry, a local startup focusing on logistics. His fuckup story involved dumping in a lot of cash over a crucial decision of having a cash flow for 3 months only. Later on it was acknowledged as a mistake in terms of their strategy and creating a model that was not sustainable. Apart from that, their manpower cost shooting up to RM15,000 a day.
TheLorry built resilience in their business by by reengaging with several e-commerce platforms such as Lazada and Shopee with a newer, robust model that focused on a collaborative effort in terms of spreading cost and profit sharing.
Ethan also mentioned that you have to trust your teammates to do the right thing which might also be unfavourable to some as the goal and understanding the basics is the key. Go back to the basics. Fundamentals don't change no matter how you spin it.
"Fail fast, if not faster and learn from there."
Ethan Lim, Country Manager of TheLorry
---
I left my 5 figure salary job for my passion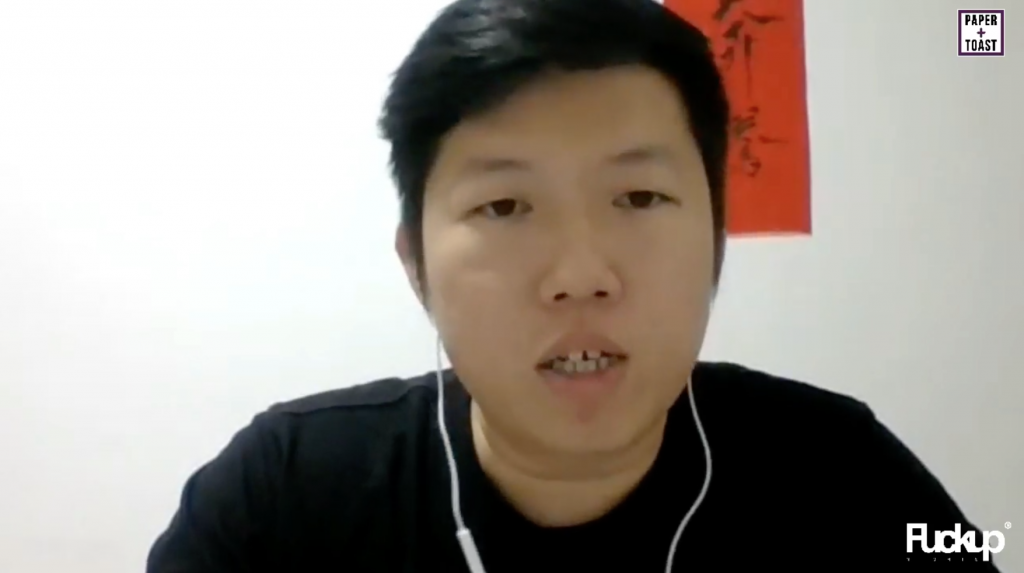 Teng Lee, co-founder of Aliments, is currently working his way towards revolutionising the F&B industry. He left his 5 figure job to leverage on the issue of the stagnant F&B landscape by bridging the gap. His fuckup story revolves around how he picked up after his partner left due to the increasing complications in 6 months.
Teng strived to build resilience in his business by learning about the startup industry, building connections and he was lucky to meet a group of programmers who was working on a very similar project as he was. Teng found his co-founder who believed in the same goals and togetherness in achieving their dream. From shifting his career path to choosing the right partner has left him with no regrets as he continues to strive to make his dreams come true with his strong team.
"Co-founders are like puzzles, they are a part of the brain of the project."
Teng Lee, Co-founder of Aliments
---
My boss threatened to deport me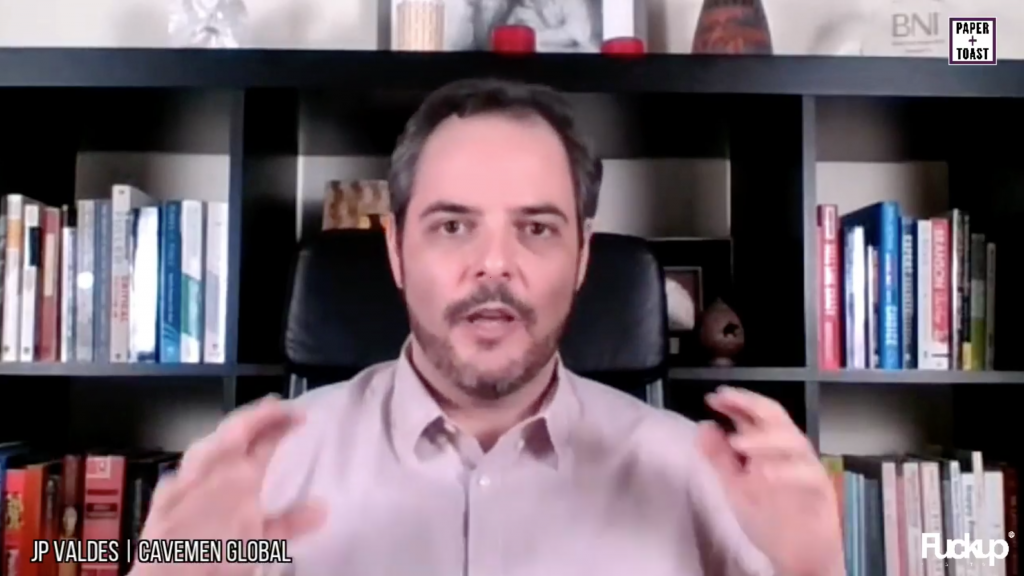 JP Valdes, CEO of Cavemen Global, aims to revolutionise the change management training and workshops globally. He has gone through his highs and extreme lows in one of the recessions during a massive industry shifts in the earlier years. He worked as a regional manager for one of the top non-profit organisation in the oil and gas industry. 2008 was a peak period for the company, not knowing what was ahead of him; the recession.
No one's never really ready for the worst. Price dropped tremendously down to 30% in a week and even lower after a year. Assumptions on business going back to normal was taken for granted until his boss started threatening to deport him. How did he build resilience in his business?
What JP did to overcome this was to make a decision, commit to it and hustle! Building relationships paid off in bringing the business back, adding more value towards the company and their clients.
"Expect the unexpected, because its predictable."
JP Valdes, CEO of Cavemen Global
---
Losing control and sense of normalcy is part of the failures. What's vital is what that keeps us all moving forward and learning that it's not the end. Through the experience of being at the lowest, it evidently widens one's perspective to realise there's more to the failures. We learn from it and move towards becoming resilient.
This is what Fuckup Nights is all about, sharing and embracing failures. We would like to lift the community's spirit in achieving their goals and dreams with the ever-growing ecosystem.
If you would like to give it a shot to share your Fuckup story, let us know here.
Missed out on the live session? Fret not, we got you.
Stay tuned for our next Fuckup Nights KL!
Facebook | Instagram