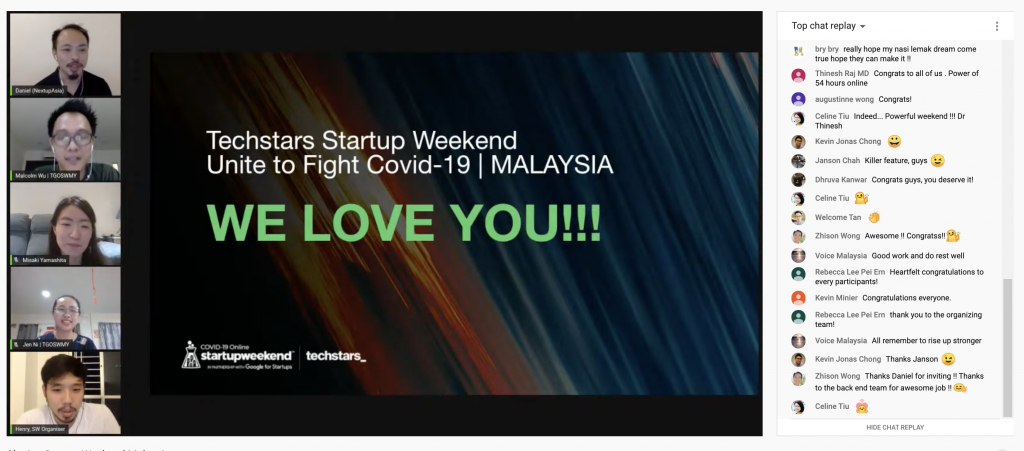 A new opportunity from the grassroots
This is a unique time for all of us as the pandemic has reset a new world. While a range of development gaps surfaced during the outbreak, we see a lot of hidden talents having the innate capacity to adapt and ideate solutions to local problems and needs. We know they need a channel for their ideas to kickstart hence the core purpose for community leaders to organise a Techstars Global Online Startup Weekend is always to help people to create value for the society in a local context.
Entrepreneurship is the single greatest force advancing society and human welfare.
We believe that grassroots innovations and great entrepreneurship have the ability to make a difference. Thus, we joined forces with other community leaders across Malaysia to be part of the global movement to organise the first online Techstars Startup Weekend Unite to Fight COVID-19.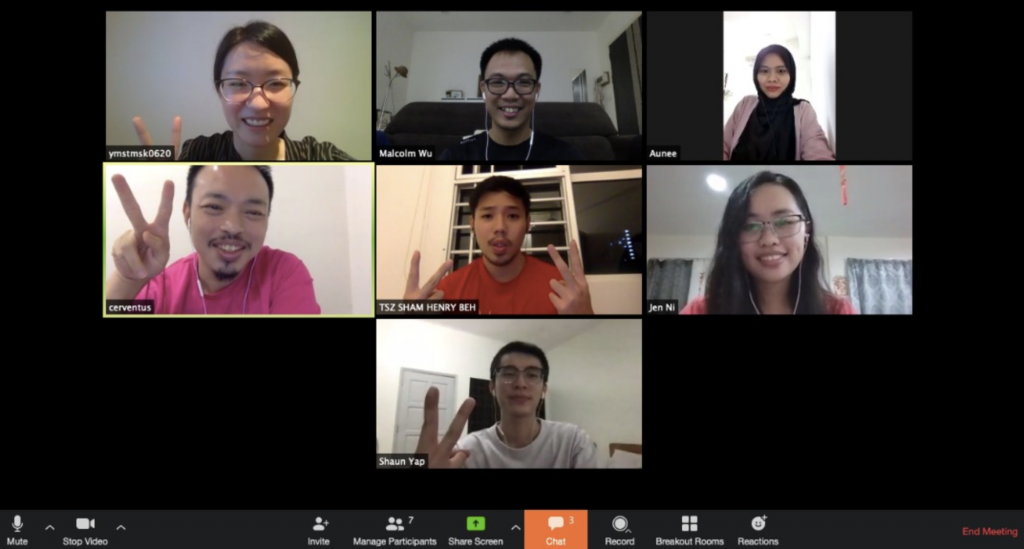 100% led by volunteer community leaders
This was somehow uncharted territory for us. In the past, we have organised over 11 Startup Weekends but never an online one. Along with 6 other community leaders, we collaboratively organised the first online Startup Weekend with 158 participants. Joining us online were people from the UK, India, China, Malaysia and Japan who submitted 59 ideas. This was the ideal opportunity to think differently and with the community's help, we can create something together that makes a big impact to as many people as possible.

Community leaders comes from different part of Malaysia which includes Malcolm from Kuching , Jen Ni from Miri, Misaki originally from Japan and currently based in KL, Daniel Cerventus from KL, Shaun Yap from KL, Aunee from KL and myself, Henry from Penang.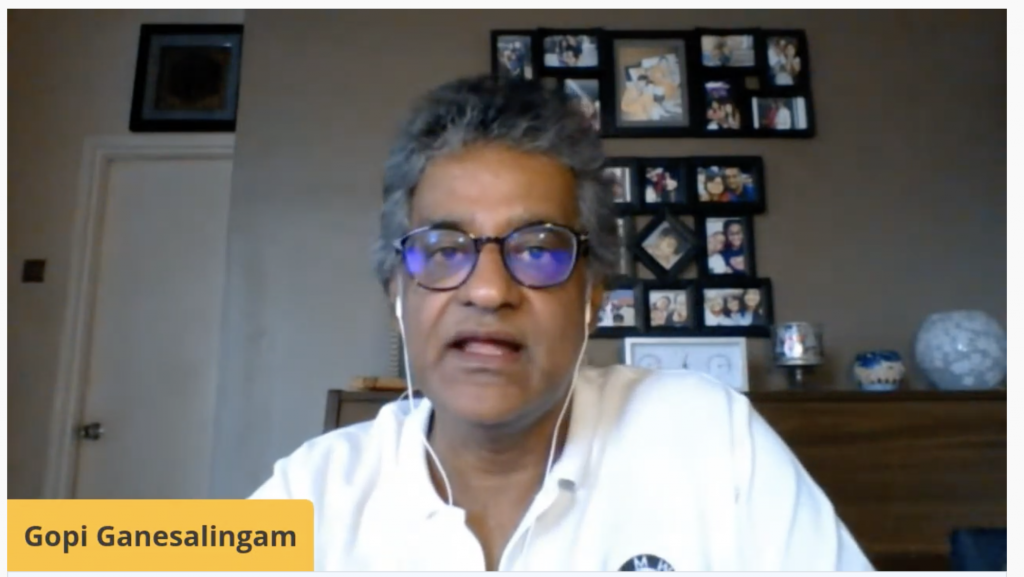 Organizing the event was a big commitment of both time and energy, but it was worth it. It presented us with an opportunity to invite people out of their comfort zone, time zone, and even isolation zone. It also provided us with a platform to make asks, and we just ask BIG!
We went through our contacts, LinkedIn networks, and any network by any means to scout for the best mentors, speakers, judges and partners to join us. We wanted to get them involve in providing the maximum value to the community while contributing to the growth and survival of the ecosystem in Malaysia during this trying time!

40 mentors, 2 speakers and 4 judges across 10 countries were all volunteering their time and expertise to support this event from different time zones. We were joined by mentors based in Malaysia, Japan, Australia, Thailand, Mongolia, Singapore, Hong Kong, New Zealand, USA and Taiwan. We were just totally driven by the enthusiasm of the mentors' effort to lift each other up and inspire change.
Virtual Mentorship Session
We designed the mentorship sessions to help the mentors and participants to imagine themselves in a real-life Saturday afternoon Startup Weekend. They could move around the venue with dedicated tables where each team of participants booked the mentor's time. Participants learned to improve and optimised idea pitching and business model from the mentors. All mentor breakout rooms have full audio, video, whiteboard and screen share capabilities.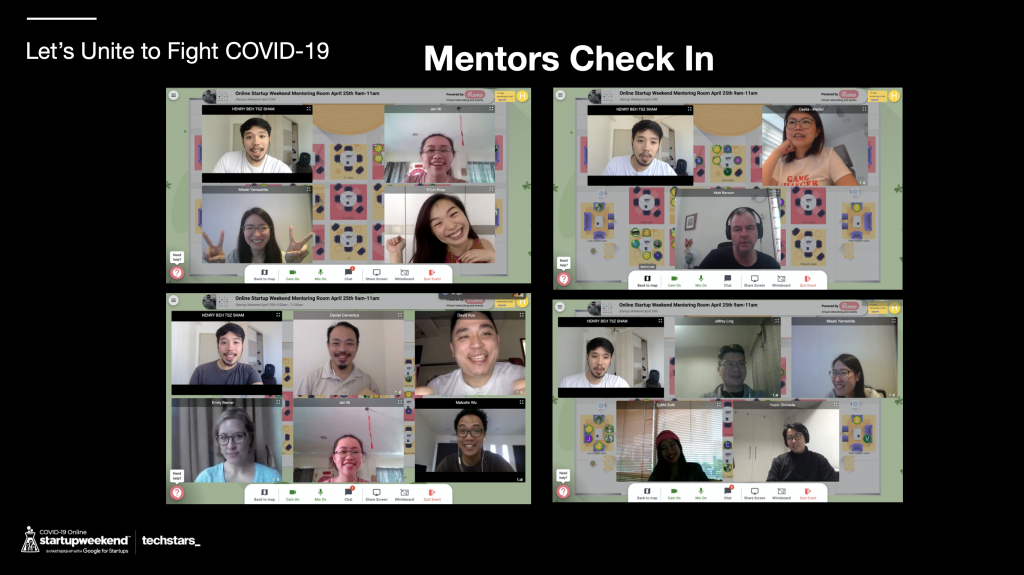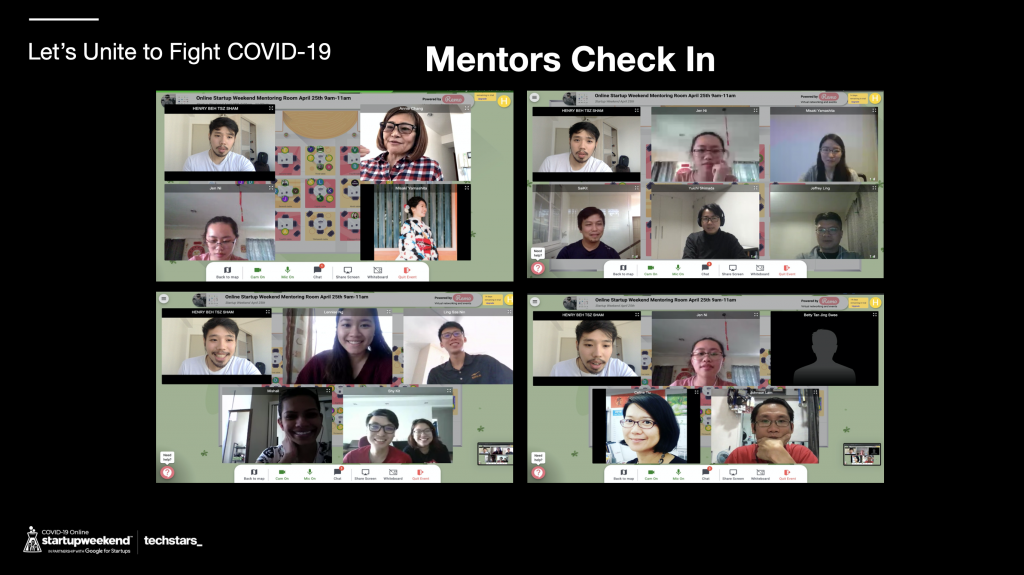 Geography is no longer a limitation
The online edition of Startup Weekend also opened up doors for connectivity across regions. We had a call with the organiser of Startup Weekend Japan during the weekend. We realised we all share a common goal and mission of inspiring action in the lives of entrepreneurs working together to develop inclusive solutions during this trying time .

Communication among participants were made through Discord text/ voice channels. There were regular touch points with facilitators and organisers to make sure everyone had an opportunity to access the resources they needed. Eg: #i-need-a-team #tech-support #resources-and-tools

We constantly motivated our fellow participants through Discord #just-for-fun channel. Understanding that it is the fasting month, we started conversations such as how our Muslim participants buka puasa (break fast) while working on their ideas.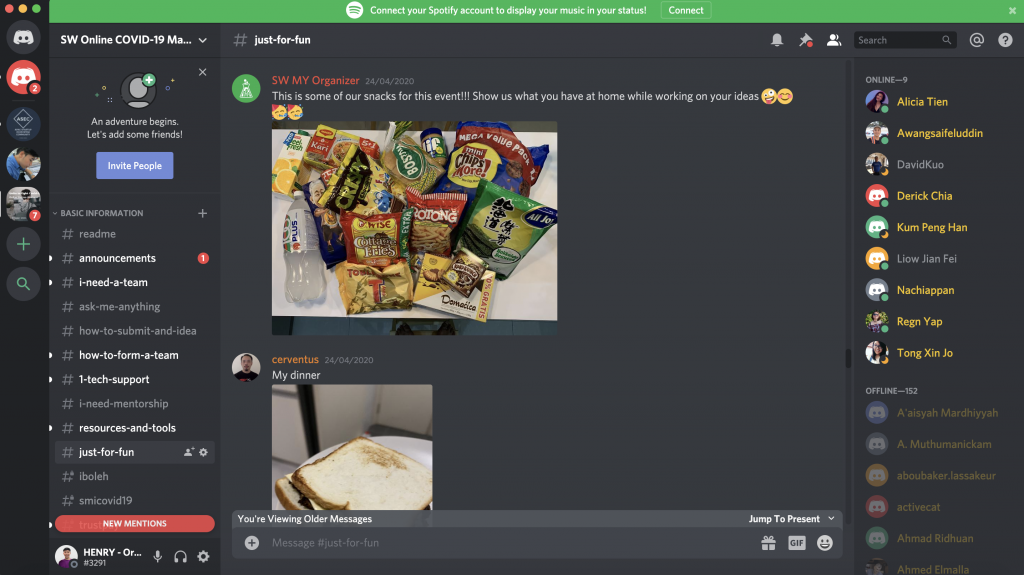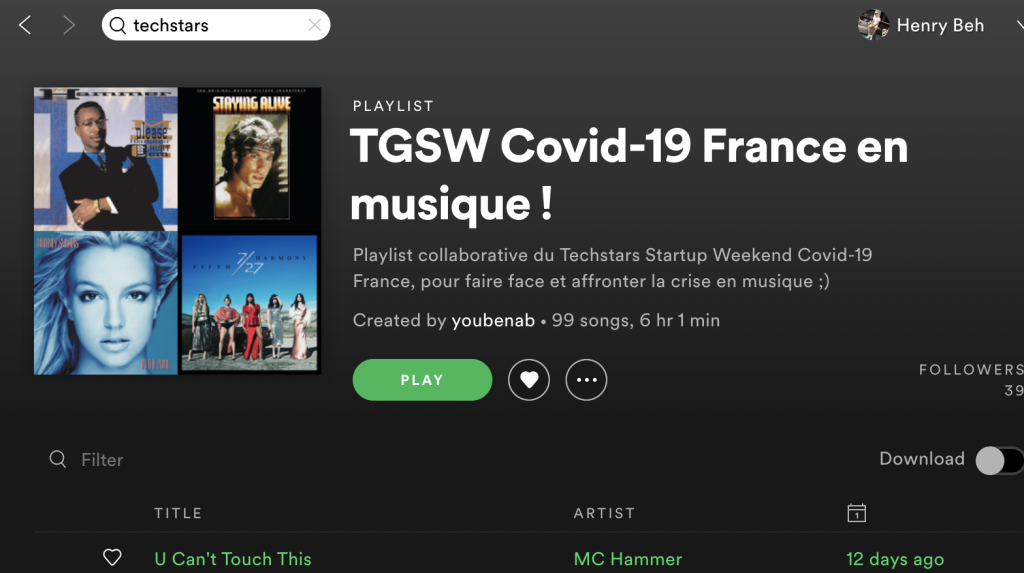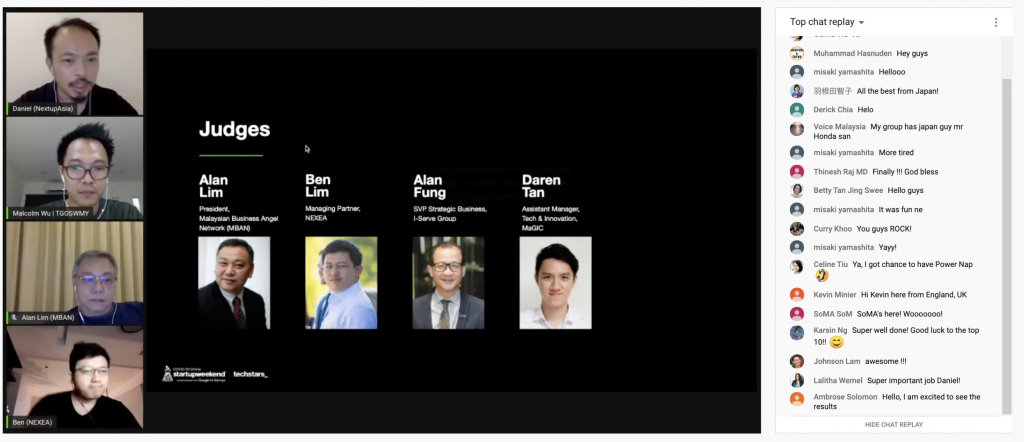 What's Next?
Competition is not the central theme of Startup Weekend. No successful venture has ever been completed alone, and that is why mentorship and guidance is so valuable to entrepreneurs.
The local and global partners were well positioned to help the team to navigate this minefield, offering help to activate their entrepreneurship journey.
Everyone emerged a winner by stepping up to spend their weekend having the thought of providing a solution for the disruption that the pandemic has caused, while the one who continues with their idea beyond Startup Weekend will be the ultimate winner! We were not expecting every idea to be a completely new innovation. Whereas from the organiser's point of view, we wanted people to feel as though they can contribute and add to it.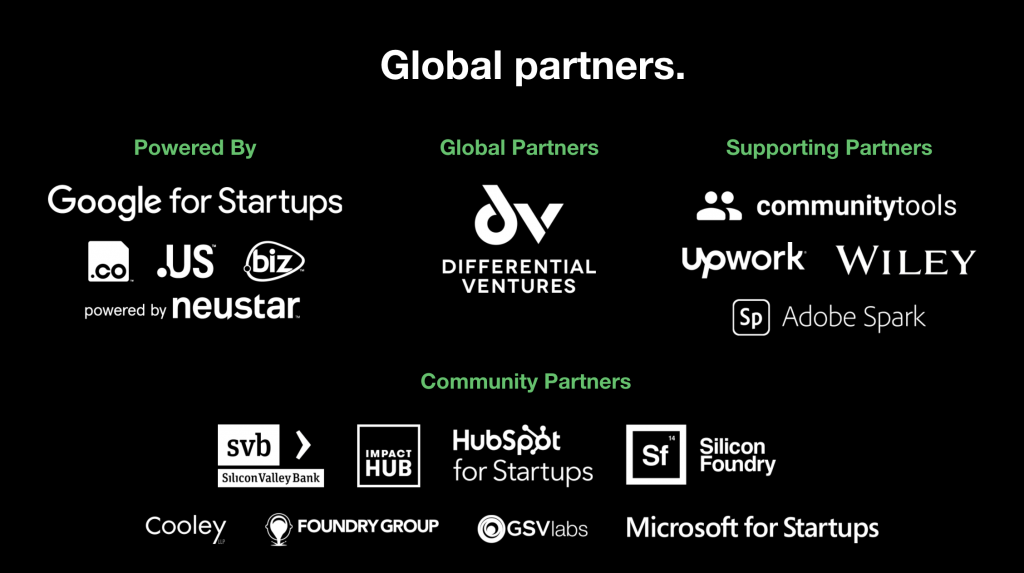 Top 20 teams from around the world for Techstars Global Online Startup Weekend Covid-19 edition will be selected to participate in a Techstars Innovation Bootcamp experience. Top 5 Bootcamp Graduates will get $10k grant from different ventures to continue with their ideas.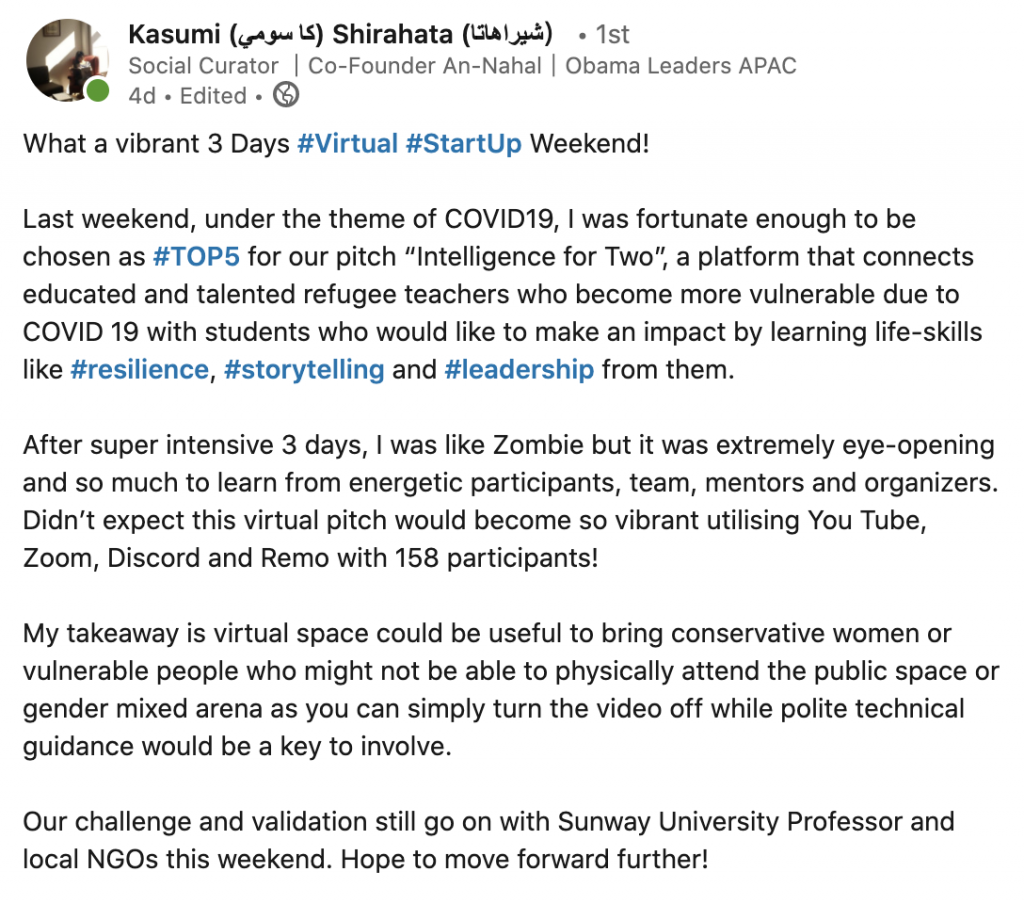 Our gratitude from the organisers goes out to every mentor, judges and partner. Special thanks to Lalitha, Farah, and Tara from Techstars for helping us to run a good show with the greatest impact from the first day! We were glad to be part of this incredible opportunity and everything else that has come about because of it!
About Techstars
Techstars is the global platform for investment and innovation. Techstars founders connect with other entrepreneurs, experts, mentors, alumni, investors, community leaders, and corporations to grow their companies. Startup Weekend is a flagship program of Techstars, a global seed accelerator and mentorship group.
Looking forward to be part of the next Startup Weekend as
Participant? Mentor? Partner? Volunteer? Organiser?
Sign Up here.