While it may still be awhile before we can network in the same physical space, virtual networking tools are abundant to rekindle that excitement and interest between entrepreneurs and startups meeting for the first time. We've put together a short and sweet list of our networking tools of choice for you to explore:
WHAT IS IT
Before there was Sugarbook, there was Facebook – minus the raunchy elements. Facebook is the only OG social networking platform which outlived its competitors of the same era. Although it seems like everyone's grandaunt and their cats are on Facebook now, along with their questionable data privacy issues, Facebook is still one of the top social network platforms to date and it doesn't seem to be slowing down.
Facebook Groups are one of the features that is increasingly active for engagement and discourse. There are over millions of groups on Facebook, varying across different areas of interests. Communities are formed through these groups when people engage in different discussions or ask for opinions and information.
We've seen a good amount of entrepreneurial discussions in some groups, especially those who are newer in the field of business, and being able to engage with certain established entrepreneurs help to bridge the gap in information. Facebook groups are also good ways to get direct information from people like community event organisers and angel investors, or even to seek funding.
HOW DOES IT WORK
It's pretty straightforward – search for a keyword of your interest, and join a group! Some groups require you to key in some details on why you're joining the group, just to prevent spammers from joining.
WE RECOMMEND
Join startup community groups such as Startup Malaysia Insights, StartupMamak, Entrepreneurs & Startups in Malaysia to join the discourse! 
WHAT IS IT
LinkedIn is a business and employment-oriented platform turned professional social networking site. Launched way back in 2003, LinkedIn was mainly used for employers to post about job opportunities and for job seekers to get connected to them. Now, it is a personal branding tool used by both employers and employees alike to showcase their professional work and lifestyles.
While it might seem that LinkedIn is increasingly being used to overshare work life anecdotes, it still remains as one of the most widely used professional networking tool, allowing you to connect with other professionals seamlessly and is more than a job search portal.
HOW DOES IT WORK
The first step to networking on LinkedIn is to have a good professional profile. This would usually consist of your working experience, education, and other accomplishments. In order to network on LinkedIn, you will need to have a specific purpose. Whether it's exploring partnership opportunities or connecting with other professionals before deciding on a career or role change, you would need to know what kind of people you would like to get connected with before reaching out to them.
WE RECOMMEND
Use LinkedIn for professional networking, sharing professional opportunities, and building up your personal branding.
WHAT IS IT
Lunchclub is a fairly new networking platform that matches you to new connections each week based on your interests and preferences. They describe themselves as "an AI superconnector that makes introductions for 1:1 video meetings to advance your career". It allows you to connect with people, entrepreneurs, and professionals all over the world. While the platform does the matching,
HOW DOES IT WORK
When creating your profile on Lunchclub, you'll be able to select what interests you and what your goals are on Lunchclub, from purely networking, to looking for a job, or event to raise funds. The system will ask you each week if you'd like to book a networking slot, there's no obligation.
Once you say yes, their AI system will match you and you'll have a 45 minute 1:1 session with them. To help the AI make certain decisions, you can also let it know what kind of profiles of people you would prefer to match to.
WE RECOMMEND
Try it out! If you miss the one to one quality interaction with people from various backgrounds, Lunchclub is definitely worth a shot! You might get connected to the CTO of Uber like I did!
WHAT IS IT
Reddit recently made waves as the subreddit r/wallstreetbets organised the GameStop short squeeze, causing the GameStop stock price to rise 30 times of it's initial valuation. Over millions of small investors banded together to fight Wall Street by showing hedge funds and other professional money managers who have been shorting Gamestop's shares by increasing the buying of shares and stock options – a true community effort. The subreddit also gained over 1.5 million users overnight on January 29.
Founded in 2005, Reddit is up there as one of the oldest social platforms, along with Facebook. It's a forum-like discussion based platform that allows users to post content, and also upvote or downvote other's contents. Reddit is divided into different areas of interests known as subreddits. Known for its active and outspoken virtual community, Reddit is a good place to delve into specific topics of interest and network with other users of the same interest.
HOW DOES IT WORK
Explore a subreddit of your interest by typing in the relevant keywords. Join in the conversation or start one of your own. Depending on subreddits, the Reddit community is generally open to discuss, help or give suggestions. Just don't defy any of the rules, which may result in you getting banned by the moderators.
WE RECOMMEND
Join entrepreneurial subreddits such as r/Entrepreneur, and also the r/Malaysia sub for more localised discourse. You could also try checking out the r/wallstreetbets-inspired r/bursabets.
WHAT IS IT
Clubhouse is the hottest app that everyone is talking about and looking to try out, and some not necessarily knowing why. Clubhouse has been around since March 2020, but with the power of child-naming expert Elon Musk, it has seen a sudden rise in popularity, despite the exclusivity of it. You can only join the club if you have an iOS device running iOS 13.0 and up (so no, you can't revive your old iPhone for this) and if you have received an invite from an existing member. As The Guardian puts it – real elitism, but make it virtual. However, they are targeting to open the app up once the beta version is complete.
So what exactly is it? To simply put it, it's an audio-chat networking platform where you can listen in to podcast-like interviews or discussions of various topics.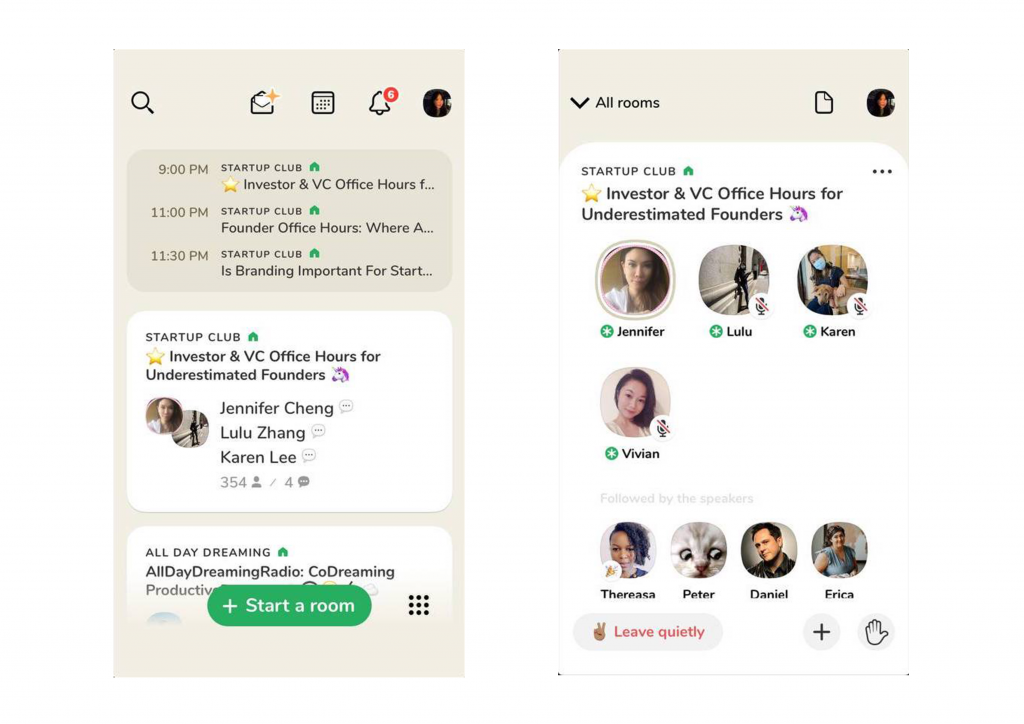 HOW DOES IT WORK
In order to sign up for Clubhouse, you can either use an invitation link that was given to you, or you can key in your phone number and wait for someone that has you in their contacts to pass you an invite. Once you've passed the golden gate, you can select topics of interest to customise your "feed" of conversation rooms. The app will also recommend people and groups you can follow. You can also create your own groups and conversation rooms.
WE RECOMMEND
Explore the app if you have the chance, but don't feel the need to buy an iOS device just for it.
---
Here are some of our recommendations of ways to network with other entrepreneurs in this new day and age. These tools can't replace good old in-person networking, but they'll suffice for now. What are your go-to networking platforms? Did we miss anything out? Let us know in the comments!